Don't Lose Your Dinosaur
Don't Lose Your Dinosaur
As children, most of us couldn't wait to grow up. All we wanted to do was be tall enough to ride the ride or old enough to drive a car. Or, if you were me, you were counting down the days until your 21st birthday…
But, it seemed that with each milestone reached, the more serious life became and we slowly enjoyed less of what made being a child so wonderful…being carefree.
Carefree or gay…either way…either way is fine…
When we got our license, we worried about what people would think of the car we drove…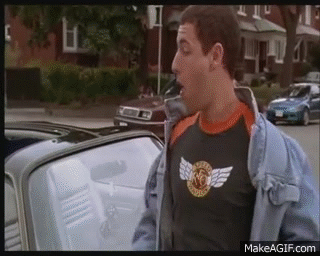 When we graduated high school we immediately had to make a career choice. What would people think of the path we chose?
What an incredible rush we were in to get to these points in our lives, and what a shame that some of those milestones lost their luster due to our worry about what others thought of us. But don't worry! I have some good news! There are still plenty of milestones to reach, and plenty more chances not to give a rat's ass what people think!
Ask yourself this…what revs your engine? What makes you feel on top of the world? What is something you have always enjoyed no matter what? Don't lose that! It could be as simple as playing the harmonica, being part of a team, or dancing….
When life sucks, it's because we lost what revs our engine, tickles our pickle, or lights our fire. We get too busy and we care too much. So do yourself a favor, make the time to do the weird thing that makes you happy, and care less about the reaction from others to your weird.
Take the time, even when it feels like you can't spare a moment. You will be glad you did. More often than not, I have to put out the effort to make the time, and 100% of the time I'm glad I did.
Have you ever noticed that when you're bored, you tend to do something boring like watch TV? It's easy to plop on the couch and click passed 100 commercials to finally land on a winner like "Real Housewives of Who Gives a Shit." Instead of wasting time this way, put out that effort to do something you love! Were you a football player in high school and miss the game? Throw a god damn football!
Miss the old days when you used to sing baritone for the Tone Rangers? Well get your ass off the couch and tank tank tank with the best of them!
It's ultimately up to you to get your groove back Stella! And I just know you can do it 🙂
Another reason for this…as if you needed another…is to be an example to others, especially your kids. Personally, I try to do more rather than talk more. For the longest time, I felt like I was drilling into my daughter what she was capable of. To take the bull by the horns and to stop her self doubt. But, then I thought to myself, am I relaying this message to her through my actions? Or am I just telling her all of these things and expecting her to believe them. 
Since that "aha" moment, I try my hardest to walk the walk with my freak flag flying high. She may be embarrassed of me when she's older. But, my hope is that she sees my weird as confident, and that she takes notice of me enjoying life.
I bet you thought "Don't Lose Your Dinosaur" was just a silly quote from Step Brothers I used…
Well, think again…
(That is me as a Dinosaur with my two awesome kids!)
And don't just apply this to what you have already done. Think big! What have you always wanted to do but never had the guts to try? What have you talked yourself out of doing for fear of others reaction? I already know you're getting excited just thinking about it…
Don't let fear stop you. Just do it. It doesn't have to be monumental, start small. And remember when I said earlier that I wanted to show my daughter through action instead of words? Well, I'm going to do that here also! I have a list of goals I want to accomplish. Some are big and some are small, but I am going to put it all out there for you. When I said we were on this journey together I meant it…
Throughout the month I am going to display for you an example of walking the walk instead of just talking the talk…or blogging the blog…So be on the look out for my first video of the journey to my goal! Here's a hint… I mentioned this right above Elaine's awesome dance moves!
And remember my friends, when it feels like you're always stuck in second gear..when it hasn't been your day, your week, your month, or even your year. Always know, I'll be there for you…
Keep checking in for encouragement for your journey, to be a spectator for mine, or to meet me in the middle to start your own happy.