Age Ain't Nothing But a Number Baby!
Age Ain't Nothing But a Number Baby!
You're being a bit too literal Kevin Heart…
To be more specific, it is NEVER too late to do what you have always wanted to do…
Let me tell you a fantastic story that might make you change your tune about it "being too late."
My Aunt Carol has been taking my cousin Michael to Taekwondo lessons for many years. She always sat on the sidelines cheering him on and loving every minute of it. But throughout those years, she began to develop an interest in the sport beyond her sons. Could I do this? She wondered. Am I too old? Well she answered her own questions by just doing it…
(This is my Aunt Carol holding a certificate for receiving her brown belt!)
Aunt Carol put her age aside and is quite literally kicking ass! So what is stopping you from your dream? Are you in the wrong career? Does it suck the life out of you and make you just live for the weekend? Are you actually Peter Gibbons from Office Space?
Well let me just say it again…it's never too late!
I have another fun story for you about someone you can actually relate to. My friend Kelly is an amazing person who was really good at her job and actually enjoyed it. But it came to a point where she was not fulfilled in her career. She decided to take a huge risk, leave this awesome job, and totally switch careers! Her words are better than mine when explaining her situation…
"Something in me woke up when I turned 30 and told me it was time to grow a set and go for it. Science always scared the shit out of me, so I put a dream of mine in my deep subconscious and went for the easy way out. No regrets though, I've had fun and made some of my most solid friendships and relationships out of it. But I'm terrified and excited to announce I've been accepted to Holy Family's accelerated nursing program, starting in January. I'll have a BSN in my hand in March 2019 and I have never been more excited. And petrified. I can't wait to save people, to learn and this program just seemed to be the perfect fit."
Congrats Kelly! I support you and your dreams!
My point of telling you these stories are because they are relatable. I could tell you a million and one stories about famous actors or athletes that never gave up, but could you personally relate to Michael Jordan or Oprah? It's amazing what they have done, but I'm not trying to be the best in the world at anything….
I personally feel as though some of the reasons we aren't living our dreams is because we think we should have arrived at them by a certain time.
But why do we feel this way? A great example is that most of us feel like when we graduate high school, we have to go to college, get a degree in 4 years,obtain a career, and we're set. Sounds easy right? NOT!
(I took the alternate path and didn't graduate until I was 27)
We are all supposed to know at the age of 17 or 18 what we want to do for the rest of our lives? Some do, and that is freaking amazing! I have a ton of friends who always have known what they wanted to do and have successful careers and I am so proud of them. But at the same time, I felt slightly envious. I've always known I was creative, loved to write, and make people laugh, but never really felt like I had pinpointed a career, nor did I feel like I had any kind of path to follow.

But maybe it was a good thing that I didn't have a specific path, so I could create my own. I mean, my path was full of potholes, red lights, and waiting for ducks to cross, but hey it was a path. And maybe if I had forced myself to follow a specific path because I felt like I had to, I wouldn't be where I am today.
I remember when I went back to school I had posted something on Facebook about getting an A on a test, I was super proud of myself. Later that day, I saw someone I had graduated high school with post something along the lines of "Why are you guys still bragging about grades, we all graduated college years ago!" At first, this made me feel small, silly for posting my grade, and slightly ashamed for being back in school so late. But why? Why do we have to all graduate at the same time? Get jobs at the same time? Accomplish our biggest goals at the same time?
Isn't it kind of fabulous to learn through this thing called life, so when we do shoot for the moon we actually get there? And WE are the ones that discover that it is made of cheese? And not those who made fun of us who are still sitting around their boring jobs watching us discover that the moon is made of cheese? 
When you think about the time we are living in right now, we have so many opportunities at our fingertips. We can teach ourselves things from watching YouTube videos, we can educate ourselves through Ted Talks, we have access to all kinds of fascinating information. So what are you waiting for?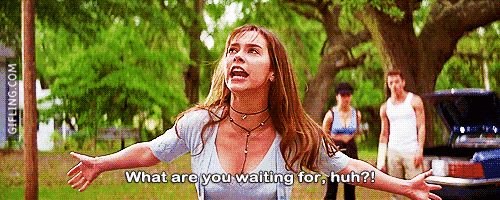 Stop making excuses, you're as young as feel, you can do it put your back into it 😉
Don't Call It a Comeback! You've been here for years.